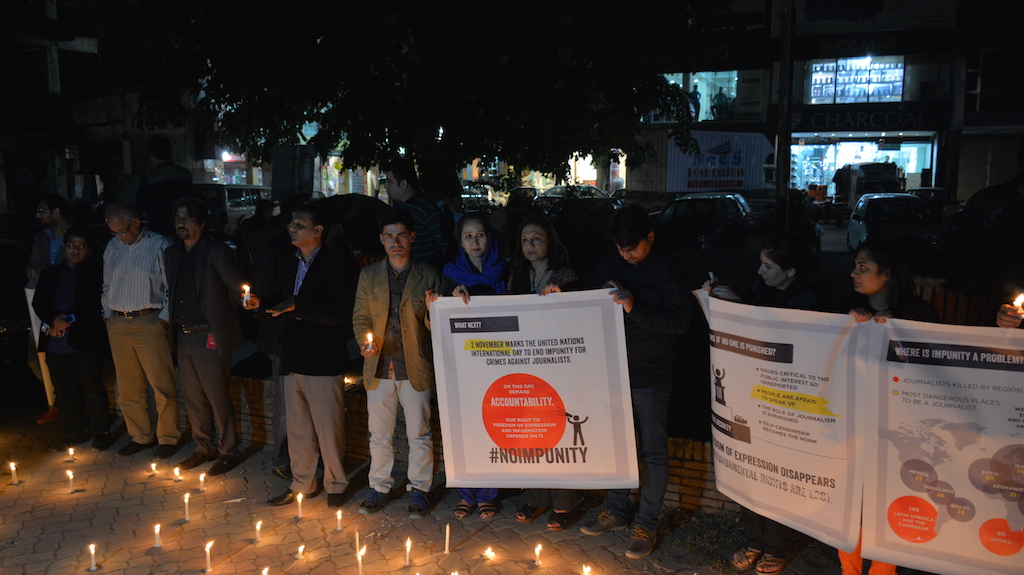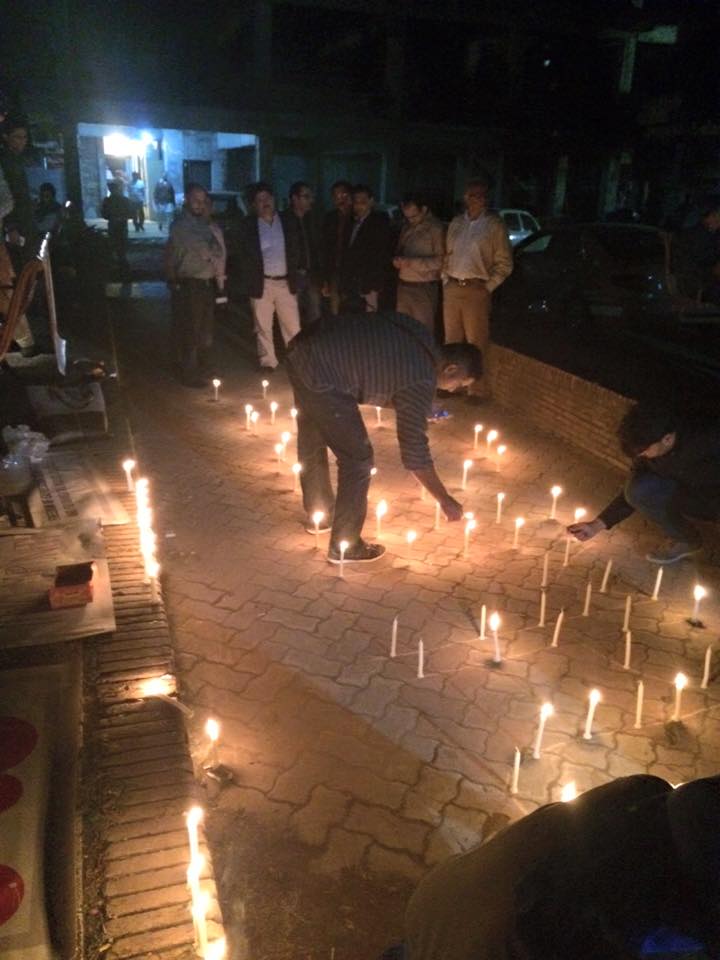 Islamabad, 2nd November 2015: The lack of consequences for those who target journalists in Pakistan is resulting in increasing violence against the members of media fraternity; this sentiment echoed in the statements made by a small group of journalists and civil society actors gathered in Islamabad to mark the International Day to End Impunity in crimes against journalists.
The candlelight vigil was organized by Media Matters for Democracy and Bytes for All, Pakistan with support from the Pakistan Federal Union of Journalists. Talking to the gathering, a number of local journalists from Islamabad and Rawalpindi including Geo's Hamid Mir and PTV World's Director News Owais Tohid also attended the vigil. Speaking at the event, Owais Tohid held that journalism serves an important function in the society and the journalist community will stand together to seek justice for those targeted for performing their journalistic duty.
Asad Baig, Executive Director Media Matters for Democracy said that it is shameful that Pakistan is known globally as a country that is hostile towards its press. He said that the sanctity of the press has to be secured as the targeting of journalists isn't simply an attack on media but an attack on democratic values in our society. He said that journalists and civil society have to come together to demand justice for their fallen heroes.
Bilal Dar, Secretary General of the Rawalpindi Islamabad Union of Journalists appreciated the effort by the two CSOs saying that journalists often take to the streets to protest against the ills of the society, but it is not often that civil society raises a voice for the plight of journalists. 
Speaking at the occasion, Shahzad Ahmed, Country Director, Bytes for All Pakistan, also expressed concern about the prevailing impunity in Pakistan. He said that freedom of expression is the right of all Pakistani citizens and attacks on journalists also endanger their right to access information. 
Journalists at the vigil also commented on the role of Pakistan Federal Union of Journalists, PFUJ, asking for more unity among the journalist community.
The candlelight vigil was one of two protests held in Islamabad to mark the End Impunity Day. 2nd November has been designated as the International Day to End Impunity for Crimes against Journalists and is observed globally to ask states to bring preparatory of crimes against journalists to justice.