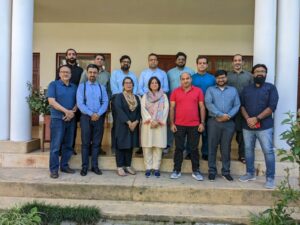 In the first week of August 2022, Media Matters for Democracy hosted top managerial staffers and senior editors for a two-day design thinking strategy exercise that was aimed at creating actual intervention in the media industry, specifically the mainstream media space where the key players were operating. The main goal of the collaborative strategy building was to create solutions for the economic revival of newsrooms in Pakistan.
The participants included Zeeshan Haider of BBC Urdu, Manzar Elahi of Geo Digital (Urdu), Awais Hameed of Express TV, Gibran Ashraf of SAMAA Digital, Talha Ahad of TCM, Haroon Rashid of Independent Urdu, Mahim Maher of Aaj Digital, Ali Akbar of Geo News, Farazana Ali of Aaj News, and Zain Siddiqui of Dawn News.
The participants engaged in an open-floor discussion to collectively approach the existing financial, operational, economic and social challenges faced by the media industry as a whole – as well as opportunities. The key takeaway from this training exercise was that after 2 days of design thinking exercises, the fundamental solution and way forward that was pitched as part of the MMFD-led recommendations was that editors from leading national media outlets should come together and form a digital media editors association. This would give a formal structure to an industry-led group intervention with key stakeholders from the biggest media outlets part of the decision making and policy intervention process. The Pakistan Digital Editors Association was henceforth conceptualized – the inception of which is discussed under the Impact section of the report.