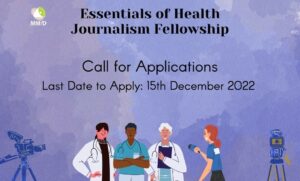 December 9, 2022:
Specialised reporting beats such as health haven't received their due coverage in the Pakistani news cycle. The Covid-19 ushered in an unprecedented global surge in health and other types of misinformation that directly affected the health and safety of the public by sowing mistrust about the origins of the virus, misleading them about cures, and instigating aversion and opposition to treatments and vaccination, and in Pakistan, it exposed the capacity issues faced by Pakistani journalists reporting on health. Journalists were reporting on ground without any protective gear or safety strategy. It is, therefore, important to realise the significance of health reporting and help develop capacities of health reporters in the country.
In this context, Media Matters for Democracy (MMfD) is excited to initiate a Reporting Fellowship for Health Journalists. The fellowship will be offered to 10 Punjab-based journalists who will expected to produce two stories on the health sector, including one collaborative
story with another fellow.
Eligibility Criteria
To be eligible for the fellowship, applicants should
Have over 3 years of professional experience in reporting
Have a demonstrated experience in reporting on health
Be able to share examples of previous work
Be able to get stories published in a news outlet
What we expect
All fellows will be expected to produce, publish or broadcast 2 -3 stories focused on
health, including a collaborative story.
How to apply?
All interested applicants are requested to send in their applications by filling a Google Form linked below. The last date to apply is 15th December, 2022.
Should you have any questions or queries regarding the application process, please write to Yasal Munim at yasal.munim@mediamatters.pk
The applications should be submitted using the link below. We look forward to your applications!