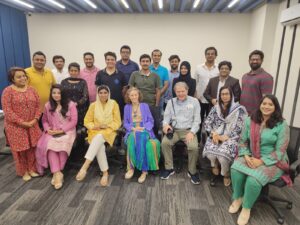 Islamabad: American journalists and expert trainers Dr Sherry Richhiardi and Frank S. Folwell conducted three two-day training sessions with Pakistani journalists in Islamabad, Karachi, and Lahore and trained as many as 83 journalists Countering Disinformation and Investigative Reporting in the Public Interest.
Twenty-five journalists attended the training in Islamabad from June 27 to 28, 2022, while 31 in Karachi, which was held from June 30 to July 1, 2022, and 28 in Lahore, which was held from July 4 to 5, 2022. The participants were affiliated with outlets such as Independent Urdu, BBC Urdu, PTV News, SAMAA TV, and SAMAA Digital, Associated Press of Pakistan (APP), GNN, Hum News, DAWN TV, Dawn.com (Urdu and English), GEO news, Soch Fact-Check, Bol News, Daily Jang, ARY News, The News, Dunya News, Dunya TV, Express News, Daily Nawa-i-Waqt, Radio Pakistan, and Neo News.
The training was aimed at helping journalists understand the following;
Investigative reporting for the public interest [in words and pictures]
Fact-checking, deep fakes, cheap fakes, and sorting fact from fiction
Data's role in the disinformation war
Working together to create a model for a misinformation beat
Introduction to ideas such as Truth Sandwich
The applications were opened on June 11, 2022, for a week. MMfD received a total of 384 applications for 75 spots. Priority was given to journalists with 3 plus years of experience in the field as the training sessions focused on working together to create a misinformation beat, it was imperative to bring together journalists with some experience in the field.